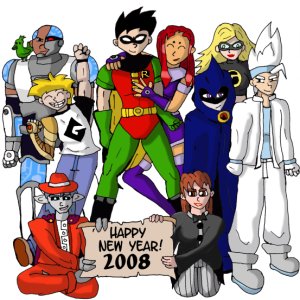 Welcome to Titan Legends
Titan Legends is an encyclopedia that details everything about the 'fanon' created around DC's animated show Teen Titans and the DC fictional universe in general.
Welcome to Titan Legends!
Edit
If you're skeptical about fanfiction, I ask that you reserve your judgement. These fanfics are hardly as kiddy as the animated show. The authors are all well versed in the comic versions of the Teen Titans and various other heroes, so some of the good stuff is there, plus a lot of new stuff. Even if you don't usually like fanfics with OC's, these stories are worth reading.

Here are some good places to start off:
Legends: This is where all the fanon stories are kept. They all be in chronological order.
About Us: This is where you can find out more about the main people connected to the website and contact them.
Character Index: This is where you can go if you aren't sure who someone is. It has a list of all the characters, and three separate lists for Heroes, Original Characters, and Villains. Be careful you don't spoil the story for yourself!
Extras: Galleries, trivia, and more fun to look at once you're familiar with the Legendsverse and characters.
Disclaimer: Just in case you feel like suing us, this is to make sure you can't. =)
Community content is available under
CC-BY-SA
unless otherwise noted.